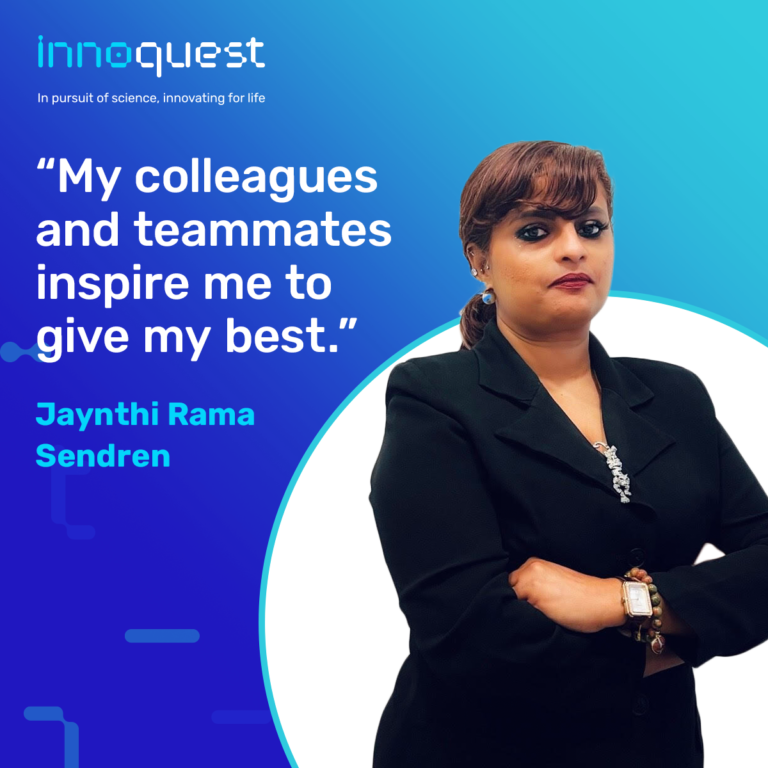 Innoquest Singapore's life-changing diagnostic capabilities is a result of technology, innovation and a wide panel of industry experts that support clinicians, hospitals, medical centres and their patients. 
One of them is Operations Manager, Jaynthi Rama Sendren, who has been with Innoquest Singapore for over two decades. Responsible for the smooth running of all of Innoquest Singapore's island-wide stat lab operations, she helps doctors and clinic staff deal with challenges and hurdles. To patients, she's the familiar face who checks in on them, ready with a smile as she logs in their details. 
During her time here, she has been an integral part of several key milestones for Innoquest. "There are so many things I would have never achieved had I not stayed at Innoquest for twenty-five years, surrounded by team-mates who inspired me to give my best" says Jaynthi.  She credits her fellow colleagues for their unwavering support and conviction.
Workplace preparedness during moments of crisis 
As part of Singapore's fight against Covid-19, Jaynthi  was tasked to set up three testing facilities within nine weeks, entirely from scratch, even as her team struggled to maintain their pre-pandemic levels of productivity during the circuit breaker period. 
"It was a difficult time for all of us, but we knew we had to work even harder than before, given that so many people were depending on us. However, we came together to keep our spirits raised, and navigated the challenges of COVID-19 together, as a team." 
Cross-training to foster stronger working relationships
Innoquest Singapore comprises teams spanning several areas of expertise. The company's large size makes it challenging for colleagues across different teams to connect with one another, and share knowledge and expertise. However, Jaynthi realised the importance of cross-training, a practice where medical staff from varying teams have a chance to connect with people they do not typically work with.
She decided to connect the phlebotomy team, responsible for drawing blood from patients, with clinic staff from other medical departments in the hopes of promoting cross-training. "The clinic staff were able to build new relationships with each other, and enjoy an increased sense of camaraderie with their existing colleagues," Jaynthi shared. "Now, teams can work together more effectively, and have a better understanding of bigger-picture issues and challenges."
Spearheading a pioneering lean management program
Realising the importance of operational efficiency, Jaynthi proposed the creation of a lean management programme at Innoquest Singapore's Paragon branch. She realised that phlebotomists spent a considerable amount of time manually creating barcodes for every container of blood they kept, and wanted to equip them with better technology so they could work faster. The Paragon team was the pioneers of this workshop, which has since been adopted by other teams.
Jaynthi values intellectual stimulation above all, ahead of factors like "the almighty dollar", as she put it. "I love a good challenge — it allows me to broaden my skills and knowledge, and deepen my understanding of the industry I work in," she mentioned. "Additionally, building strong relationships at the workplace and maintaining proper work-life balance has made me appreciate my role so much more."